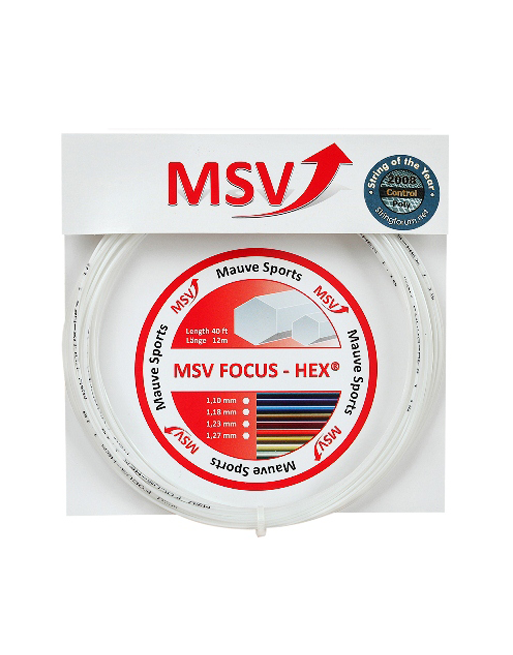  
MSV Focus Hex 1.27mm White 12m / 40ft
Ideal for Club- or Tournament-Players with a powerful groundstroke
Hexagonal shape and strong snap-back effect for great spin potential
High-Tech additives for excellent control, durability and tension stability
Our best-seller.
Ideal for Club- or Tournament-Players with a powerful groundstroke
Hexagonal shape and strong snap-back effect for great spin potential
High-Tech additives for excellent control, durability and tension stability
Our best-seller.
Results of Tennis Warehouse University (1.18mm) (status August 2019; 9 strings tested):
#1 tension maintenance
#1 spin potential
#2 energy return
Durability score: 93%
Control - Score: 85%
Touch - Score: 85%
Results of Stringingpedia lab test (1.23mm): Control: 100/100 points / Spin: 95/100 points   Source:

MSV FOCUS-HEX® 1,23mm was awarded String of the Year multiple times by the leading tennis string community (www.stringforum.net). This string was winner of the following poly categories: durability, spin and tension maintenance. It is the third most rated string ever amongst 2,129 rated strings (MSV did not perform any kind of promotion activity).
92% satisfaction (source: stringforum.net, 415 ratings for all diameters; status: August 2019).